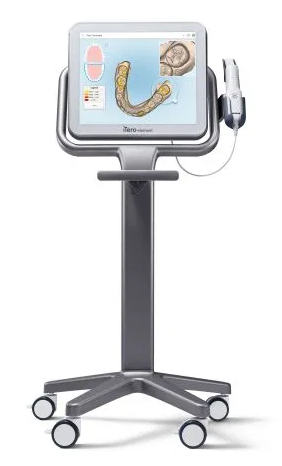 What is an iTero Element Scanner?
The iTero Element Scanner is a hand-held intraoral scanner that can capture 3D images of your teeth. This scanner is about the size of a pen and fits easily in the palm of a hand.
The iTero Element Scanner uses 3D scanning technology to produce accurate, high-quality images. This device captures a 3D image of your tooth, then sends the image instantly to the computer. This scanner is hand-held, so your dentist can scan your teeth and view the results in real-time.
How does the iTero Element Scanner work?
The iTero Element Scanner is a state-of-the-art digital impression system that eliminates the need for messy putty impressions. The scanner uses a hand-held wand that takes 3D images of your teeth, producing highly accurate dental models.
The iTero Element scanner uses 100-micron scanning technology, which is up to 10 times more accurate than traditional impression methods. The scanner features an affordable replacement plan, allowing you to update your device with the latest technology as your needs change.
Benefits of an iTero Element Scanner
Eliminates the need for messy, uncomfortable impression materials.
No unpleasant taste or odor.
Itero Element Scanner ensures accurate scans that are easy for your dentist to use, so you get better fitting restorations.
Itero Element Scanner is quiet, so you can stay comfortable while your scan is being taken.
Itero Element Scanner is portable, so you can take scans in the comfort of your own home.
Is the Itero Element Scanner right for you?
The Itero Element scanner provides our dentists with a high level of accuracy when capturing intraoral imagery. It provides our doctors with a complete, 360-degree view of the mouth and jaw.
The Itero scanner is an exciting addition to our practice because we can spend less time having patients bite into impression trays and more time focused on providing high-quality dental care.